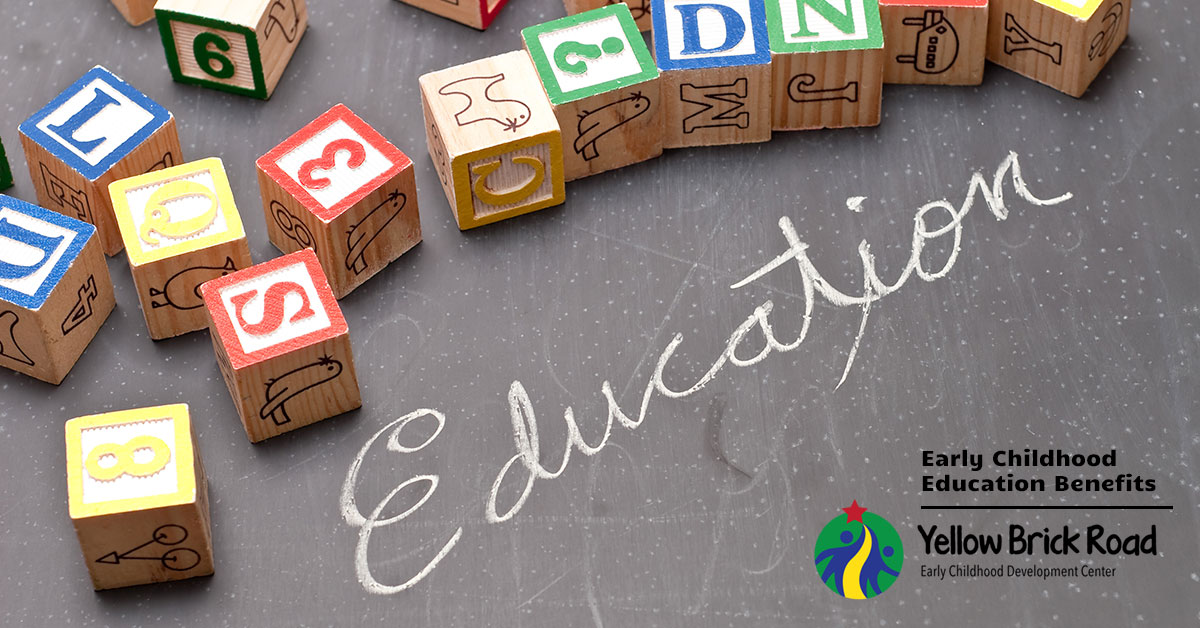 Have you considered preschool for your child, but you are having trouble making the decision? Maybe you are afraid they are too young, too dependant, or not ready? Preschool can be a wonderful experience for children, and at Yellow Brick Road we strive to nurture every child to develop their strengths and reach new heights. Preschool is a time of learning new skills, making new friends, and forming new routines. Our preschools in Minnetonka and Plymouth are  for children 3-4 years old; read on to see how preschool can benefit your child!
Social Skills
Preschool may be the first time your child will be in a consistent setting with numerous other children. This is the perfect opportunity for your little one to build their social skills as they play and learn with their peers. Maybe you have an only child, or a child with much older siblings. You may worry that your child is not ready for socializing in the preschool environment, but don't fear! Children are great at adapting to new situations, and a great preschool will provide an environment that makes it easy for children to make new friends. There will be group activities that emphasize taking turns and sharing, building these lifelong skills in your child. Your child's sense of humor may emerge, as they see that they have a talent for making others laugh. Kids will also learn appropriate ways of expressing their emotions, even if they are mad or sad. They will be able to see the effect of their behavior on others; this helps to develop empathy. Getting along with others is a life skill that will be used by your child in school, work, and beyond. Starting your little one early with good social interactions sets them up for a successful life of friendships and relationships. The relationship your child forms with their teachers will also broaden their horizons as they get affirmation and love both at school and home. Their teachers can be another adult to reinforce good behavior and habits.
Adjusting to Routines
Your child will learn skills in preschool that will help them throughout their school experience and into their work life. Adjusting to the routine of preschool helps to organize your little one's life, and most children like having a very consistent routine. If your child knows that they go to preschool at a certain time, eat their lunch at a certain time, and clean up toys at a certain time, none of these tasks seems overwhelming or surprising. They become part of a familiar and comforting routine. Your child will be better prepared when they enter full time kindergarten if they have the schedule of preschool mastered.
Motor Skills
As a preschooler, your child is still mastering many physical skills. A good preschool program allows your child the opportunity to run, climb, and play, and through these activities they are honing their motor skills. Along with these gross motor skills, your child is also learning to develop their fine motor skills through more detailed play such as stringing beads or pouring water. Preschool should be all about experiencing new things through play and exploration, and all the while your child will be advancing their motor skills. This will give them confidence in play, and that confidence will be carried into kindergarten.
Preparation for Kindergarten
Kindergarten is becoming more and more rigorous, and letters and numbers are taught way earlier than they used to be. Make sure your child is prepared by enrolling them in a quality preschool program where they are exposed to letters and numbers in a fun setting. Preschool is a time for fun and exploration, and if letters and numbers are introduced in a fun way, they will not seem intimidating once your child reaches kindergarten. There are other skills that we take for granted that are a big deal to a preschooler. Learning to correctly hold a pencil, or stand in line patiently, or listen to a story being read aloud are all simple skills that preschool exposure helps to foster and grow. Having adjusted to the preschool routine, entrance into kindergarten will not seem as overwhelming to your child. The social skills, motor skills, and learning routines that your child gains in preschool will all be immensely useful when transitioning to kindergarten.
Preschool is the opportunity for your child to learn and grow as they transition to kindergarten. Many skills are gained during the preschool years that your little one will carry with them for a lifetime. If your child is already enrolled in a childcare program in Minnetonka or Plymouth, or if you are looking at preschool as the first time your child will be away from you, our preschool program at Yellow Brick Road can help! We are committed to nurturing your child and providing them with a warm, loving environment where they can grow, learn, and reach their full potential!